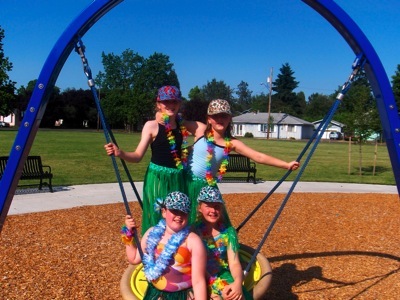 Clara had her 'friends' birthday party at the outdoor pool!  Dressed for a luau they danced and swam away the day.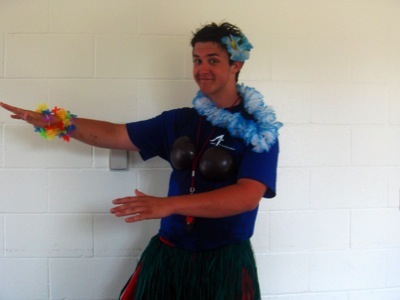 Happy Birthday.. Clara??! Yeah..  Here's MyBoy, not Clara.  …he can sure dress in drag and do the hula!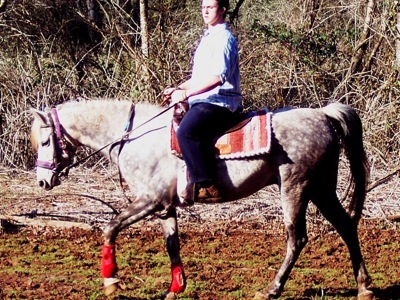 Michael, at 6 feet, and Smoke, at 16.1 hands, may have finally stopped growing.. but I wouldn't bet on it yet!
Here they are enjoying a rare moment of April sunshine.  🙂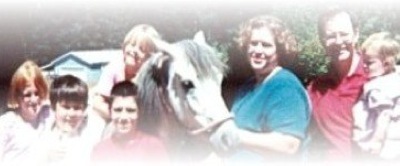 Here's some of the family playing 'My Pretty Pony' with Nicholas, the Welsh Pony.  Cousins Gretchen and Brigitta, Michael and Sparky, and America, Scott and Clara are all playing out in the pasture.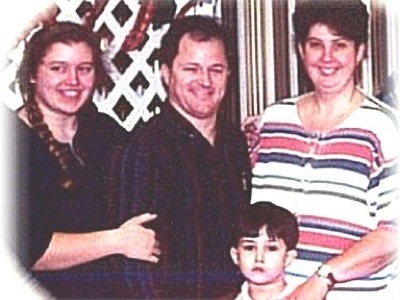 America, Brian, Claudia, and Michael slow down for a moment to pose for a picture the day before Scott and America's wedding.  The chapel is being decorated in 30 Christmas trees, each strung in 1000 white lights.  No other illumination will be necessary for the ceremony.  Enchanting!